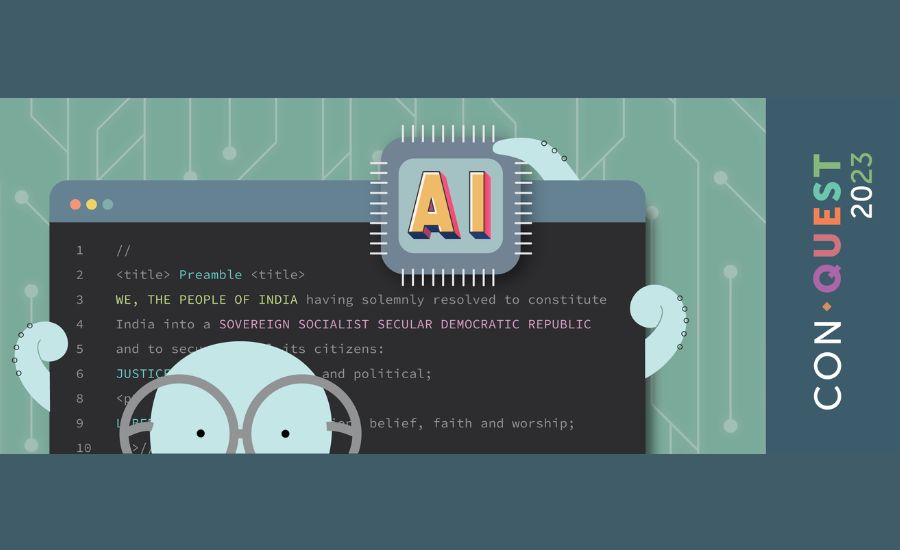 ConstitutionofIndia.net is excited to announce the 7th edition of ConQuest: India's Premiere National Quiz on the Indian Constitution, History and Politics.
Since its first edition in 2016, ConQuest has grown to become the largest quiz and educational activity that celebrates India's constitutional history and politics. Last year, we successfully organized the sixth edition of ConQuest following a two-year hiatus due to the COVID-19 pandemic. It was heartening to witness the continued enthusiastic engagement of students from across India with ConQuest and India's constitutional heritage, which motivates us to continue providing this unique platform for students to engage with the Constitution. This year, the theme for ConQuest is Artificial Intelligence and its intersection with constitutional matters and related technologies.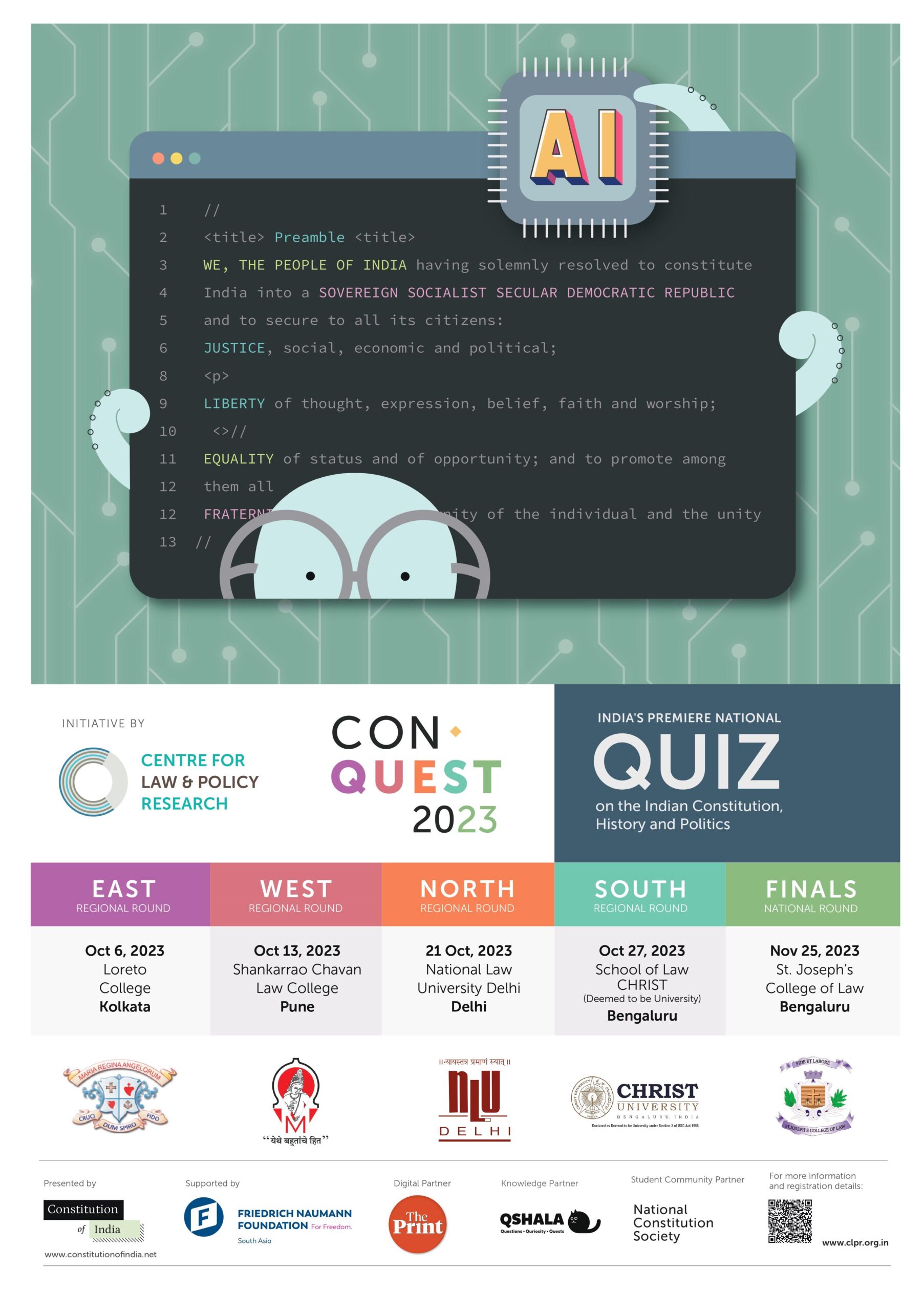 ConQuest encourages undergraduate and graduate students from all disciplines including natural sciences, social sciences, engineering, humanities, and law to engage with the Indian Constitution, law, politics, history and current affairs. These include bachelor's and master's students. M.Phil and PhD students are not allowed to participate, but are welcome as audience members for their respective regional rounds and/or the National final round.
This year, the Quiz will be held in October and November. We begin with regional rounds in Kolkata, Pune, Delhi and Bengaluru in collaboration with our regional partners. The National Finals will be held in Bengaluru in late November.
Who can participate?
Undergraduate and graduate students from all disciplines. These include ONLY bachelor's and master's students. The Quiz is not open to M.Phil and PhD students.
What is the format of the quiz?
It will consist of four regional rounds and a national final. Each regional round consists of a preliminary and a regional final round conducted on the same day.
The preliminary round will be a written test. The six highest scoring teams will go onstage to compete at the regional final. The top two teams from each regional final round will compete at the national final to be held in Bengaluru.
What will the Quiz cover?
The Quiz will focus on the Indian Constitution, politics, law, history and current affairs. A team familiar with ConstitutionofIndia.net will have an advantage.
What are the rules and regulations governing the quiz?
Please find the rules and regulations for ConQuest 2023 here.
How to register?
There is a registration fee of INR 300 to be paid by every team at the venue.
Please register HERE!
Spot registration can be done at your regional partner venue. Spot registrations will close half an hour before the start of the preliminary rounds, at 9:30am. Please ensure you reach your regional partner venue and complete your registration by 9:30am at the latest.
We strongly recommend you register online to allow us to plan effectively.
Where and when will the quiz be held?
Zone

 

City

 

Date

 

Time

 

Venue

 

East

 

Kolkata

06 October

 

10am to 1pm

 

Loreto College

West

Pune

13 October

 

10am to 1pm

 

Shankarrao Chavan Law College 

North

 

Delhi

 

21 October

 

10am to 1pm

 

National Law University Delhi

 

South

 

Bengaluru

 

27 October

 

10am to 1pm

 

School of Law, Christ Univeristy
The National Final will be held at St. Joseph's College of Law, Bengaluru between 9:30am to 1pm on 25 November.
Who to contact in case of queries?
Please write to conquest.quiz@clpr.org.in
ConQuest 2023 is organized by the Centre for Law and Policy Research, Bangalore.
The project is supported by the South Regional office of the Friedrich-Naumann-Stiftung für die Freiheit.
Digital Partner: The Print
Knowledge Partner: QShala