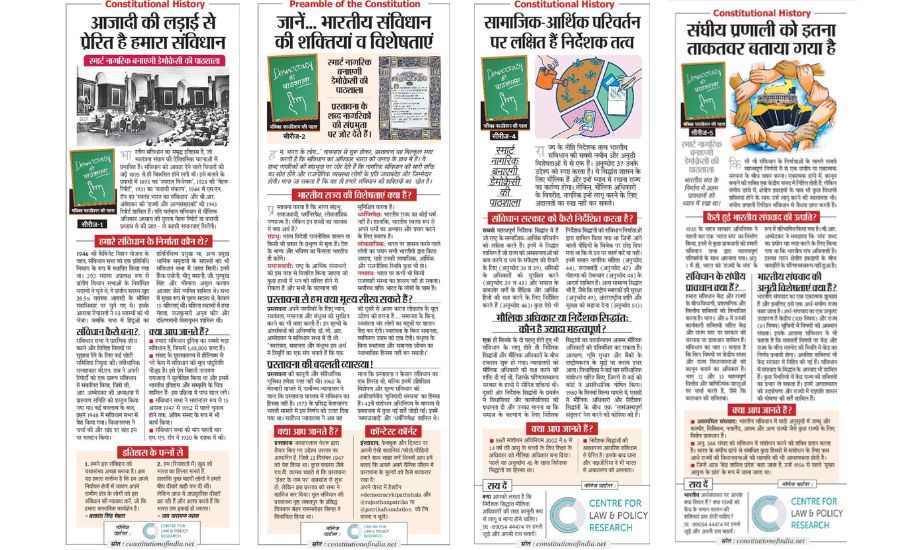 We have always believed, that to build a popular constitutional culture, engagement in Indian regional languages is critical. This not only enables a much larger reach than would be possible otherwise, but also truly makes it 'popular' by reaching across to diverse sections of our society. You may have noticed that we have uploaded Hindi translations of some of our blog posts. We also have Hindi versions of the Constituent Assembly debates, and are planning to upload Kannada translations as well in the coming year.
This year, we collaborated with the Patrika Foundation on a two-month educational outreach project, 'Democracy ki Pathshala'. The collaboration involved us producing weekly content on India's constitutional history and values. These were then translated to Hindi and published in the Patrika Group's Hindi dailies, Rajasthan Patrika and Patrika (in other states). The combined circulation of these two editions makes them the 4th largest daily in the country, across languages.
The collaboration was an important step towards our goal of building a popular constitutional culture. It allowed us to send across brief, concise and clear explanations of important constitutional aspects to a large and diverse audience.
Here are the links to each of the translated articles, uploaded on our website: