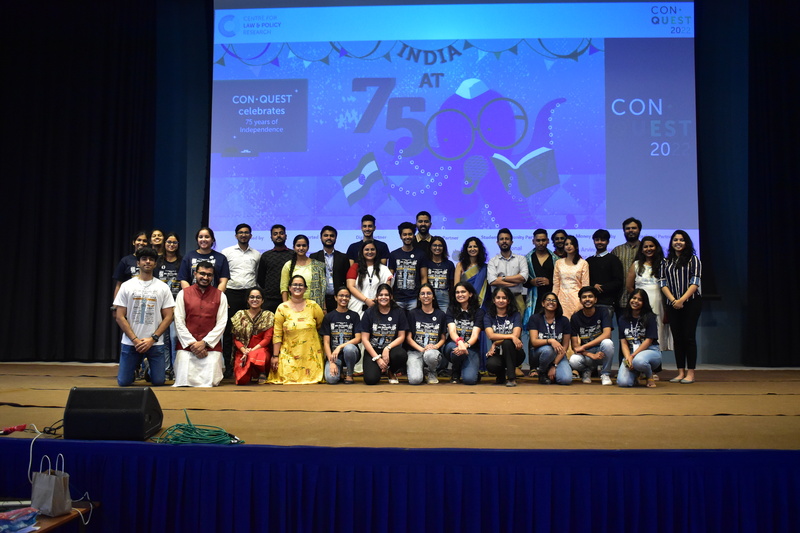 Tough competition prevailed as 42 teams battled in the preliminary regional round of the Centre for Law & Policy Research (CLPR)'s flagship quiz 'ConQuest' for the southern zone, held at Bengaluru's St. Joseph's College of Law Saturday.
ConQuest 2022, organised by the Centre for Law and Policy Research, Bengaluru, is supported by the South Regional office of the Friedrich-Naumann-Stiftung für die Freiheit and senior Supreme Court advocate, Arvind Datar.
The prelims saw teams – comprising three members each – from universities and colleges across the South zone, including National Law School of India University, Christ (Deemed to be) University, St. Joseph's College (Autonomous), Mount Carmel College, Jain College, Bishop Cotton Women's Christian College, Reva University and Indian Institute of Science.
With organiser CLPR aiming to facilitate public engagement with the Indian Constitution and its values, it was notable that the quiz day coincided with 'Constitution Day', celebrated annually on 26 November.
Out of the 42 teams, six made it to the last leg of the competition: Two teams each from NLSIU and St. Joseph's College of Law and one from KLE Society's Law College and St. Joseph's College (Autonomous).
A thrilling tie-breaker
The first round tested participants' knowledge by throwing questions about members of the Constituent Assembly and quizzing them on marital vows.
For instance, participants were asked which Constituent Assembly and Planning Commission member was a prominent advocate for women's emancipation and the founder of the Andhra Mahila Sabha in 1937.*
The next question was on the origins of the "Mantra Mangalya" wedding ceremony. The question was: "The couple recites the secular vows written by which Jnanpith awardee, who penned it in 1966 for his son's wedding?"**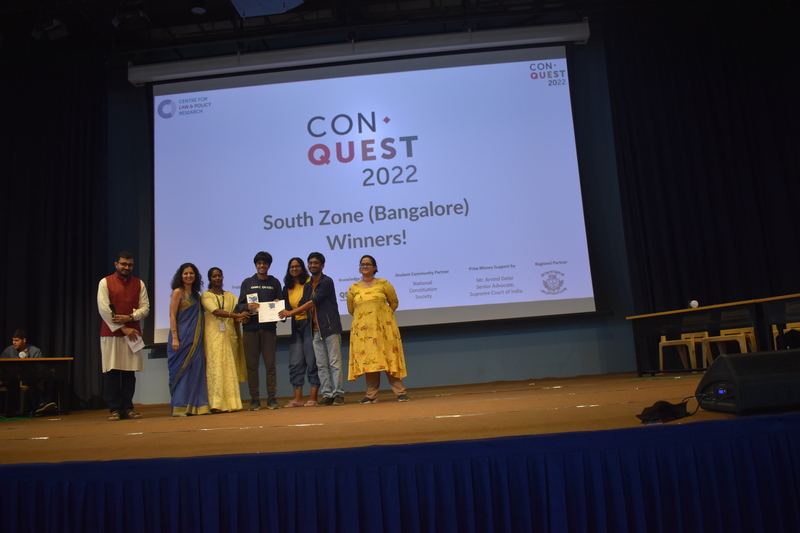 After the first two rounds in the final leg, St. Joseph's College (Autonomous) team had taken a commanding lead, with both NLSIU teams close behind. During the 'List-it' round, teams had to get as many accurate answers as possible from a grid containing nine options, within 60 seconds.
The choices included segments like "Major events of 1947," "Constituent Assembly members from the Madras Constituency," and "Parts of the Constitution that contain Chapters."
The 'Potpourri' round saw contestants stack up a lot of quick points. Among a mixed bag of questions, some tested participants on feminist terms. For instance: "What is a phrase that refers to a qualitative analytic framework that identifies how individuals who are most marginalised in society are affected by systems of power, borrowed from the waves of feminism and coined by Kimberle Crenshaw?"***
Then there was the 'Connect' round where, as the name implies, teams had to determine a connecting word/phrase/event between a series of pictures.
By the end of the quiz, NLSIU's Team 1 clinched a clear victory with 75 points. However, things got more interesting as the final stretch saw NLSIU's Team 2 and St. Joseph's College (Autonomous) tied after the 'Connect' and 'Buzzer' rounds.
The two teams were given a question on Constitution Day and NLSIU 2 managed to grab the second spot and booked themselves a place in the final round of ConQuest to be held at Christ College in Bengaluru on 3 December.
Answers: *Durgabai Deshmukh, **Kuvempu ***Intersectionality