1946 | B. R. Ambedkar on the Muslim League's Absence from the Constituent Assembly
Date: December 17, 1946
Location: Constituent Assembly of India
Audio
Credits: Prasar Bharati Archives
This audio clip features B.R. Ambedkar's speech from 17 December 1946 in the Constituent Assembly, shedding light on a tumultuous period in India's history when the Objectives Resolution was under discussion. His intervention was part of the Assembly's deliberations on whether it was appropriate to pass the resolution in the absence of the Muslim League.
The majority of the Constituent Assembly members were from the Congress or the Muslim League. However, their differences on the issue of Independent India's federal structure would ultimately lead to the breakdown of the fragile compromise between the two parties and push the League to demand a separate nation-state. As a result, the League declared an official boycott of the Constituent Assembly on 22 November 1946. In this situation, the Assembly had to consider whether it was justified to pass the Objectives Resolution. By listening to this archival audio clip, you can understand Dr. Ambedkar's stance on the issue.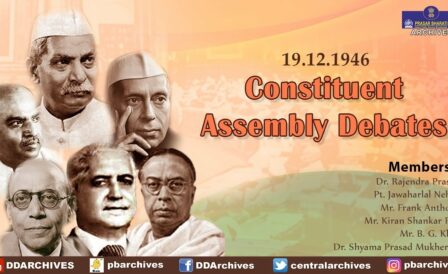 1946 | Constituent Assembly Debates
This 10 minute audio recording captures a part of the Constituent Assembly proceedings from 19 December 1946. The voices of Assembly members, Rajendra Prasad (Chairman), Frank Anthony, Jawaharlal Nehru, Kiran Shankar Roy, B.G.Kher and Syama Prasad Mookherjee are heard here.