Minoo Masani's Speech on 17 December 1946
Date: December 17, 1946
Location: Constituent Assembly of India
Audio
Credits: Prasar Bharathi Archives
This short audio clip dated 17 December 1946, provides a glimpse of an intervention made in the Constituent Assembly Debates by the firebrand socialist, Minocher Rustom Masani. In this clip, Masani is heard making a powerful speech in favour of the Objectives Resolution moved by Jawaharlal Nehru.
M.R. Masani, popularly called Minoo Masani, was one of the key socialist members in the Constituent Assembly, elected from Bombay on a Congress ticket. Though he made only a handful of interventions in the Assembly debates, these were notable contributions to the debates and unambiguously projected his socialist positioning.
Suggested Reading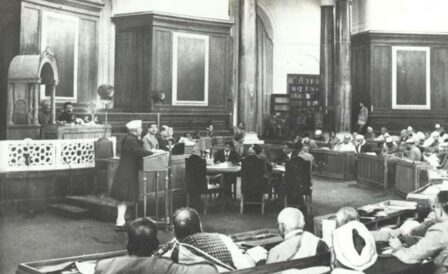 Jawaharlal Nehru Introducing the Objectives Resolution in the Constituent Assembly
December 1946, Jawaharlal Nehru addressing the Constituent Assembly while moving the Objectives Resolution.