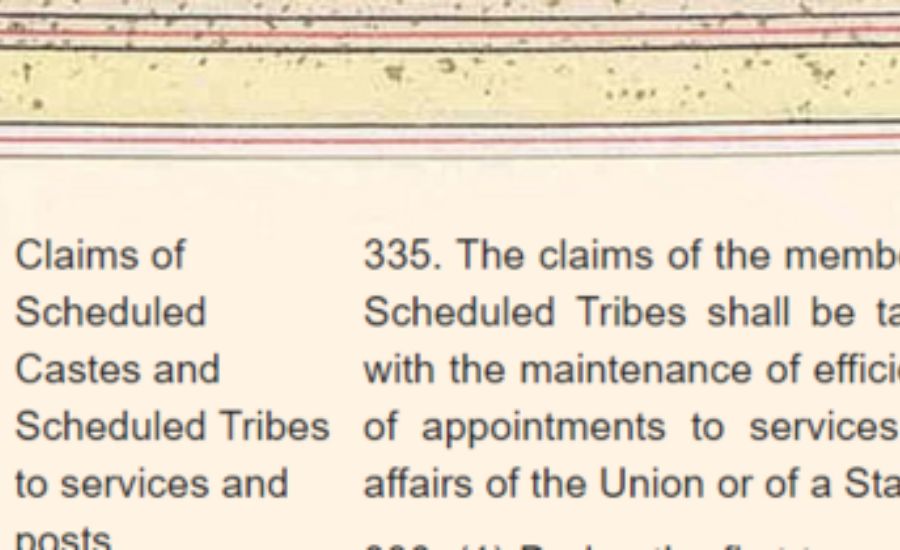 Article 335 of the Constitution states that government will consider the representation of SC/ST communities as a factor when they make appointments to posts or services, subject to the condition that the efficiency of administration will be maintained.
The Supreme Court of India is currently hearing a case in which questions concerning Article 335 are at stake including: What does it mean to maintain efficiency in administration? How can this be guaranteed?
During oral arguments, Senior Advocate Indira Jaising said that Article 335 placed efficiency and SC/ST representation on an equal footing. The Article did not give primacy to efficiency. Senior Advocate Rajeev Dhavan however stated that Article 335's mandate of maintaining efficiency required that appointments be based on seniority and merit and suggested that this had to be given primacy over reservations for SC/STs.
In this, Dhavan appeared to echo Brajeshwar Prasad's speech in the Assembly on Article 335 (Draft Article 296):
'…that there shall be only one consideration before the Public Service Commission, namely, the efficiency of administration and the merit of the individual candidate. The Public Service Commission shall not take into consideration the claims of the minority communities. The Public Service Commission shall not be swayed by any other consideration at the time of making appointments…'
Prasad moved an amendment to the Draft Article to prioritize efficiency over SC/ST representation in making appointments.
The Constituent Assembly rejected his amendment which suggests that the Assembly made a conscious decision not to give primacy to considerations of efficiency. It appears that the Assembly did not see any conflict between the two.
But after the Constitution was enacted, cases emerged around appointments where issues were framed to suggest a conflict between efficiency and SC/ST representation. In some instances, courts have pushed back against this. In KC Vasanth Kumar (1985), Justice Chinnappa Reddy noted that this framing was based on the assumption that "those belonging of upper castes and classes, who are appointed to non-reserved posts… naturally perform better than those who have been appointed to reserved posts". A similar observation was made by the Supreme Court in B K Pavitra (2019).