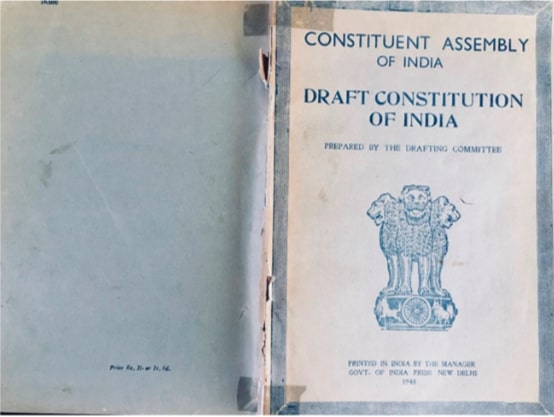 The Draft Constitution of India 1948 opened with Article 1 that stated 'India shall be a Union of States'. When Article 1 was taken up for discussion in the Constituent Assembly, some members gave notice of amendments that proposed alternatives to 'India' which included 'Bharat', 'Bharat Varsha', and 'Hindustan'. Drafting Committee member Ananthasayanam Ayyangar requested the Assembly to take up these amendments later.
The Assembly returned to the matter a year later, on 17 September 1949, to debate and finally settle the name of the Union. Ambedkar, on behalf of the Drafting Committee, moved an amendment proposing to change Article 1 of the Draft Constitution to 'India, that is, Bharat shall be a Union of States.'
It appears that the Drafting Committee took onboard demands to include 'Bharat' in the clause. Interestingly, the Committee retained 'India'.
Some members welcomed the inclusion of 'Bharat'. Seth Govind Das described it as a moment of 'great pleasure'. Ram Sahai argued that 'there cannot be a greater elation for us that the country…is being named Bharat', and Kamalapathi Tripathi was 'enamored by the historic name of Bharat'. These members explained the historical significance of 'Bharat' – a term they claimed could be traced back to, and used in, ancient Indian texts like the Vedas, Upanishads, and the Mahabharata.
However, these members found the overall phrase – 'India, that is, Bharat' – undesirable. Seth Govind Das said: 'I am glad to find that we are giving the most ancient name to our country but, Dr. Ambedkar will excuse me, we are not giving it in as beautiful a way as it was necessary. "India, that is, Bharat" are not beautiful words for, the name of a country.' H.V. Kamath too found the phrase inelegant. Inspired by a provision of the Irish Constitution ('The name of the State is Eire, or, in the English language, Ireland.') – Kamath proposed to replace Clause 1 with 'Bharat or, in the English language, India, shall be a Union of States.' Significantly, unlike Ambedkar's phrasing, Kamath put 'Bharat' before 'India' – presumably to give more emphasis to 'Bharat'.
At the end of the debate, Assembly members rejected Kamath's amendment and accepted Ambedkar's. And the Constitution of India 1950 opened with 'India, that is Bharat, is a Union of States'.